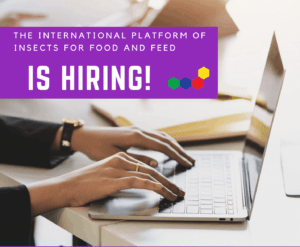 Are you keen on gaining valuable experience in the area of communication, acquiring knowledge in the field of EU Public Affairs and working for an innovative and dynamic sector?
Are you willing to work for an international association recognised in Brussels, which supports the development of an emerging agri-food industry and contributes to the shaping of a favourable EU policy and regulatory environment for alternative sources of proteins?
The International Platform of Insects for Food & Feed (IPIFF) is looking for a highly motivated Trainee to reinforce its Secretariat in Brussels.
IPIFF is a non-governmental organisation set up to represent the insect production sector at EU level. Our membership network spans over 76 members, representing insect-producing companies and research centres specialised in insect production, as well as companies active in the insect value chain. IPIFF 's mission is to promote the use of insects and insect-derived products as top-tier source of nutrients for human consumption, animal feed and plants.
Main responsibilities:
• Contribute to the development and implementation of the IPIFF policy communication tools, notably by assisting the Communication & PR Manager in day-to-day tasks (e.g. media relations, crisis communications support, updates of the IPIFF website and the internal Members' interface, press materials and newsletters drafting, preparation of press briefings and PowerPoint presentations, social media management).
• Assist in the production of other policy communications materials such as factsheets or brochures.
• In collaboration with the Secretary-General and the Communication & PR Manager, facilitate the preparation of the IPIFF General Assembly on 15 November 2023 (e.g. through the preparation of dedicated communication materials, management of registrations, and interactions with attendees and speakers, which include policy stakeholders, namely those representing EU institutions such as European Commission, European Parliament, Council of the EU and others)
• Support the monitoring activities of the Secretariat by tracking policy developments, relevant press articles, or by attending high-level external events that are relevant for the sector.
• Execute other tasks in support of the day-to-day management of the Secretariat (support the preparation of meetings, and reporting activities).
HOW TO APPLY: Find out more about the vacancy here.
Interested in updates about insects?
Interested in updates about insects?