IPIFF online workshop – Innovative solutions toward the EU bioeconomy: the contribution of the insect sector to strengthening circular value chains in rural areas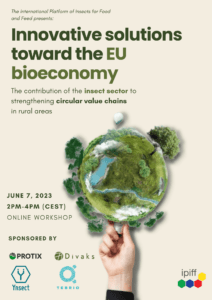 The EU bioeconomy strategy was adopted in 2012, and updated in 2018.
The European insect sector can play a pivotal role in stimulating the bio economy and addressing several of today's challenges – climate, jobs, competitiveness, energy, and resilience – notably by valorising local and regionally available biomass.
The objective of this workshop is to take stock of the current EU instruments which may be mobilised by insect producers in order to stimulate the EU bioeconomy, and thereby foster the creation of 'innovative supply chains' and 'green jobs' in European rural areas.
Furthermore, this event aims to explore avenues for developing new EU measures in order to unleash the potential of the insect sector in stimulating the bioeconomy as well as in diversifying and boosting the domestic production of proteins in Europe.
Please find here the final programme of the workshop.
Registration is also now open! In order to enroll, please use the following link. 
Would you like to sponsor our event? You may have a look at our sponsorship package, available through the following link.
For any queries, please contact eduard.tsvetanov@ipiff.org
The online event is organised with the support of: